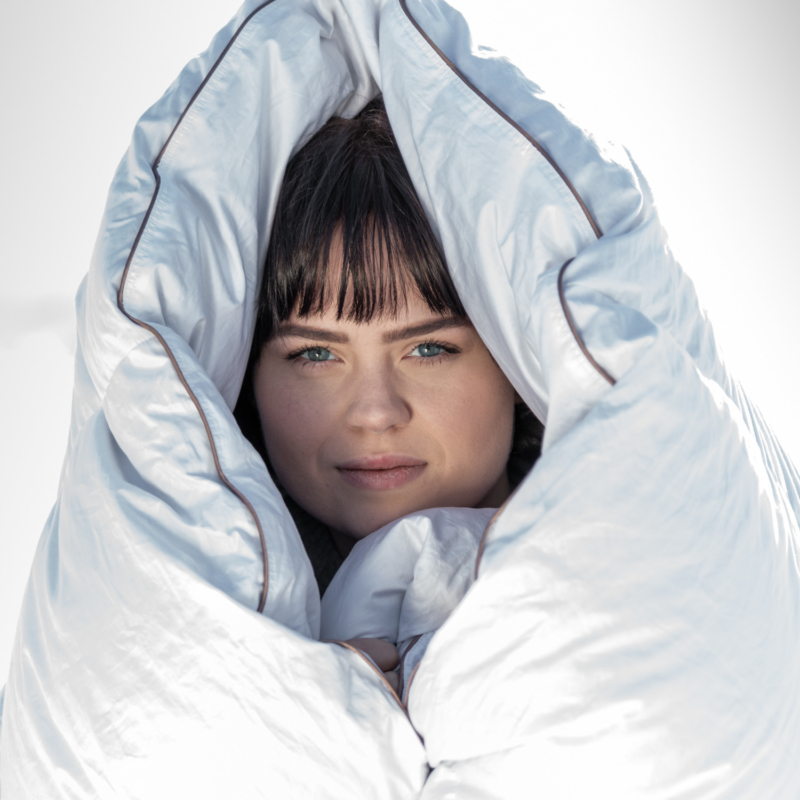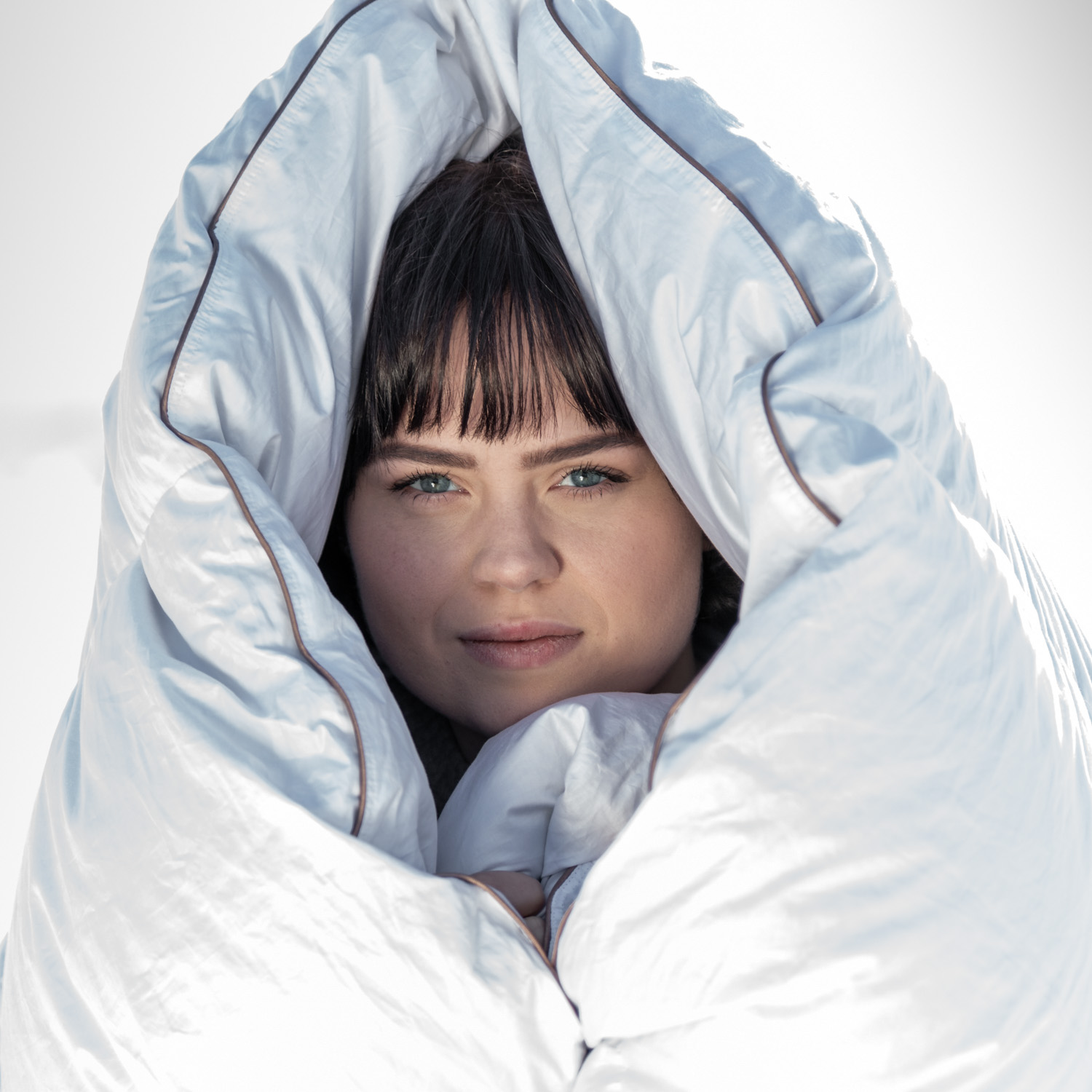 Eiderdown Duvet
Warm when it's cold, cool when it's warm. Our luxurious, pure Icelandic eiderdown duvets are light as air, silky-soft, and adapt to the ambient temperature for a lifetime of perfect sleep.
Product Description
Utterly soft, thermo-regulating and light as a cloud, our 100% Icelandic eiderdown duvets promise decades of blissful sleep. Eiderdown is one of the coziest, most luxurious natural materials on the planet, and was once prized by Europe's kings and queens.
Our duvets are ethically hand-produced by our family in the fjords of east Iceland. When you purchase products from Icelandic Down, you'll be in direct contact with our founder and owner, Ragna Oskarsdottir. She'll help you customize your duvet, answer any questions, and help you throughout the process.
Thermo-Regulating & Insulating
Eiderdown is naturally thermo-regulating. It expands to insulate you from the cold, and contracts to keep you cool when it gets warmer. You'll always be at the perfect temperature – year-round.
Sustainable & Animal-Friendly
Our eiderdown is ethically harvested by hand from the abandoned nests of eider ducks in the wild fjords of east Iceland. The farmers provide the birds with sanctuary from Iceland's natural predators. As a thank you, they leave their down behind after nesting season.
All of our manufacturing processes are 100% natural – and we don't use any nasty chemicals or pollutants.
100% Custom-Made
Every duvet is produced by hand. That means you can customize your fill weight, dimensions, and cover fabrics. If you and your partner have different fill preferences, we can even adapt your duvet to please you both!
Government-certified: Each duvet comes with two government certificates that prove the authenticity of the eiderdown and the quality of the product.
About Icelandic Down
Icelandic down is a small, family-owned business based in the east of Iceland. We make luxurious eiderdown duvets from premium cover materials and 100% authentic Icelandic eiderdown.
We're passionate about preserving our natural ecosystems, helping our local community flourish and – of course – producing the finest duvets in the world.
Product Specifications
Eiderdown
100% pure eiderdown – hand-picked in Iceland's eastern fjords.
Cotton Fabric
Down-proof sateen, 100% cotton, 475 thread count. From Germany.
Construction
Baffle box construction method.
Ordering from Icelandic Down
You can order from our online store by customizing your duvet above and clicking "Add to Cart."
If you prefer to contact us directly instead, Ragna, our founder and CEO, would be more than happy to help: [email protected]
Product Sizing & Customization
We can custom-make our duvets to match your unique preferences.
For the duvet cover, pick between 100% down proof sateen cotton or down proof premium silk. The cotton is lighter, but the silk is prettier, softer, and a bit more expensive.
Construction: All of our duvets are made with baffle box construction, which ensures that the down is evenly distributed. The baffle walls also improve insulation and ensure that there are no cold spots in the duvet.
Fill Types
The three fill options depend on how warm you need your eiderdown duvet to be:
Light: If you live in a warm climate and tend to feel hot at night, then we recommend the light fill.
Medium: If your climate or bedroom aren't particularly hot or cold, then this is the best option.
Warm: If you live in a cold climate or your bedroom tends to get very cold, then the warm fill is best.
If you're in doubt, then we recommend the medium fill.
Shipping & Returns
All of our eiderdown products come with free international shipping. We aim to ship the products within 3-5 weeks of receiving your order.
If you're unhappy with your product, we can offer a partial refund of 70% of the product price (if returned in new or gently used condition).
Unfortunately, we can not offer full refunds because a large percentage of our costs is not recoverable.
We must receive the product within 90 days of your purchase for you to be eligible for a partial refund.
Once we receive the product, we will refund your money via credit card or international wire transfer.
Our Guarantees
Our eiderdown duvets can last a lifetime when treated well. Here are some more reasons to have peace of mind.
Free Global Shipping
We ship all products within 3-5 weeks of order confirmation. We can ship to anywhere in the world – without any extra charges.
Five-Year Warranty
We'll repair or replace your duvet if there's a manufacturing flaw for up to five years after you make your purchase.
Ethical & Sustainable
The eider ducks roam wild and free – none are harmed when we collect their eiderdown from their abandoned nests. We don't use any nasty chemicals or polluting processes, either.
Manufactured in Iceland
Every step of the process is taken here in our native Iceland. We don't send the eiderdown anywhere before it's inside your duvet!
90-Day Returns
Send your duvet back within 90 days of purchasing for a 70% refund. We can only offer a partial refund due to the production costs involved in making custom duvets.
Government Certified
Each duvet comes sealed with two Icelandic government certificates (one for the duvet's quality, one for the eiderdown's authenticity). Rest assured that you are getting the real deal.
Personal Customer Service
Any questions go directly to our founder – Ragna S. Oskardottir. She'll be available via phone or email throughout the process.
Frequently Asked Questions
Is Eiderdown better than other duvet fillings?
Simply put, absolutely. Eiderdown is unique in that it has no hard quills or feathers. It's softer and springier than the likes of goose down, so it resists compression and can warm your bed for decades. It's also thermo-regulating, meaning it adjusts to keep you warmer or cooler depending on the ambient temperature.
Holding Eiderdown in your hand is magical; all you'll feel is a glowing warmth – it weighs practically nothing. And when you stuff it into your fist and then release, it'll spring up to 10 times its own volume.
Oh, and unlike other bird downs (goose or commercial duck down) which often involve cruel processes like life plucking, Eiderdown is 100% sustainable and animal-friendly – the birds voluntarily leave their down behind in their nests. No birds are harmed in the process!
Why is Icelandic Eiderdown expensive?
Eiderdown is a rare natural resource, and the world's most prized out of all duvet fillings for its luxurious softness, lightness, and insulating properties. Our Icelandic down is also painstakingly collected and processed by hand. This combination of factors adds a premium price tag to our products.
Is Icelandic Eiderdown better than other eiderdown?
We certainly think so. Iceland is one of the cleanest countries in the world with fresh air and little pollution. The nesting area where our eiderdown is hand-picked is far away from any sort of human activity, so it's as natural and peaceful as it gets.
How are your duvets constructed?
Our duvets are made with the baffle-box technique. This is the best way to make a duvet as it ensures that the eiderdown is spread evenly.
Which fill amount should I choose?
We offer three different "fills" — light, medium and warm. This determines how much eiderdown we put inside.
If you tend to get cold at night, then you should choose the warm option, which has plenty of eiderdown to keep you warm at night.
However, if you tend to feel hot at night, then you may want to consider the light option. It has less eiderdown. If you are familiar with the TOG rating, then these are the TOG numbers for our duvets:
Light: 6-7 Tog
Medium: 9-10.5 Tog
Warm: 12-14 Tog
If you don't know which one to choose, then we recommend the medium option. It should work fine because eiderdown tends to adapt to your temperature by expanding when it's cold and compressing when it's warm.
We can also add custom fill amounts if you want more or less eiderdown.
How much eiderdown is in the duvet?
The amount of eiderdown depends on the duvet's size and fill amount (light, medium, warm). You can see the amount of eiderdown on this page.
What if I don't see my preferred size listed?
We can make duvets/comforters in any size, with any fill amount. Just email us at [email protected] or via our contact page and tell us which size you want. We will give you a quote based on the size and amount of eiderdown needed.
Okay, I'm interested. What do I do next?
You can contact me (Ragna, the founder) directly at [email protected] If you'd prefer to order online, you can order directly from the shop by clicking "Add to Cart" above.