Bespoke bedding handmade in Iceland
Icelandic Down is unlike other one-size-fits-all bedding companies. We take pride in customizing each product to your unique sleeping style, climate, and preferences.
1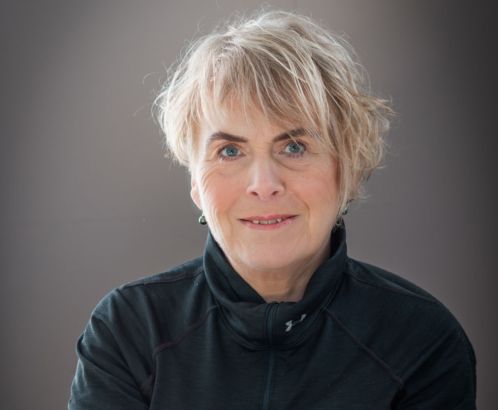 Concierge Guidance
Ragna, our founder, will guide you to making the right choice.
She will find out your unique sleeping habits and climate in order to suggest the ideal product specifications.
Ragna can also answer any questions and walk you through the ordering process. This can be via email, phone, or live chat.
2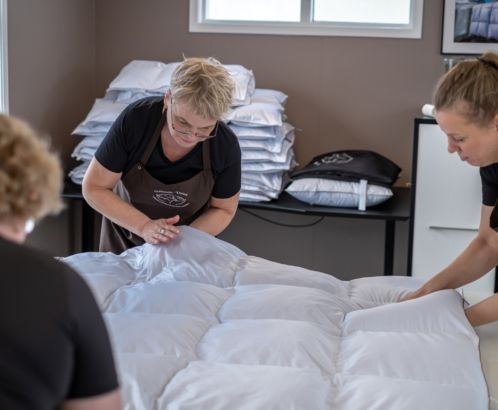 Product Customization
Request any unique product alterations and finalize your order.
After an initial discussion, we will confirm the specifications of your order – including dimensions, fill weight, and cover material.
Every product is made from scratch. We can change almost anything; custom dimensions, uneven fill weights, or specially-requested cover materials.
3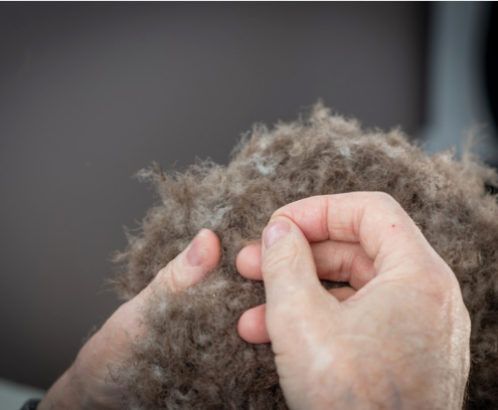 Eiderdown Processing
Icelandic eiderdown is made flawless through a rigorous two-week cleaning process.
Eiderdown is sustainably and painstakingly hand-gathered – it takes 50-60 nests to make a single duvet. Once it's gathered, it goes through a thorough process of cleaning and quality control.
This includes air drying, sterilization, machine tumbling, defeathering, hand-cleaning, machine washing, and a final quality inspection from the Icelandic Government.
4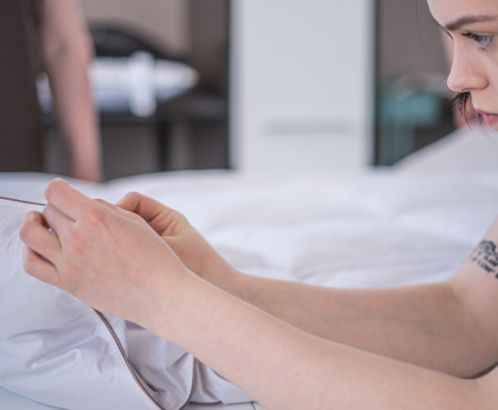 Made To Order
Your bedding will be custom made by hand to your exact needs and specifications.
The finest-quality, German-made, down-proof 475-thread cotton casings are filled with eiderdown into 24-81 individual baffle-box compartments. This ensures a perfectly even spread of the down.
Stitching is done with a purpose-built sewing machine. After years of practice, it is muscle memory for our team. Yet we still do it with great care, leaving no detail unnoticed.
Once complete, the product is shaken outside in the crisp Icelandic air to help the eiderdown adapt to its new casing.
5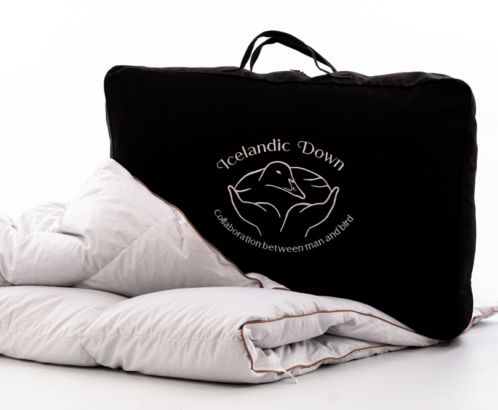 Product Shipping
Within seven weeks of ordering, beautiful package from Iceland will arrive on your doorstep.
Your order will come in our branded packaging, including a certificate of quality and authenticity from the Icelandic Government. Ragna will follow up with you to make sure everything is to your satisfaction.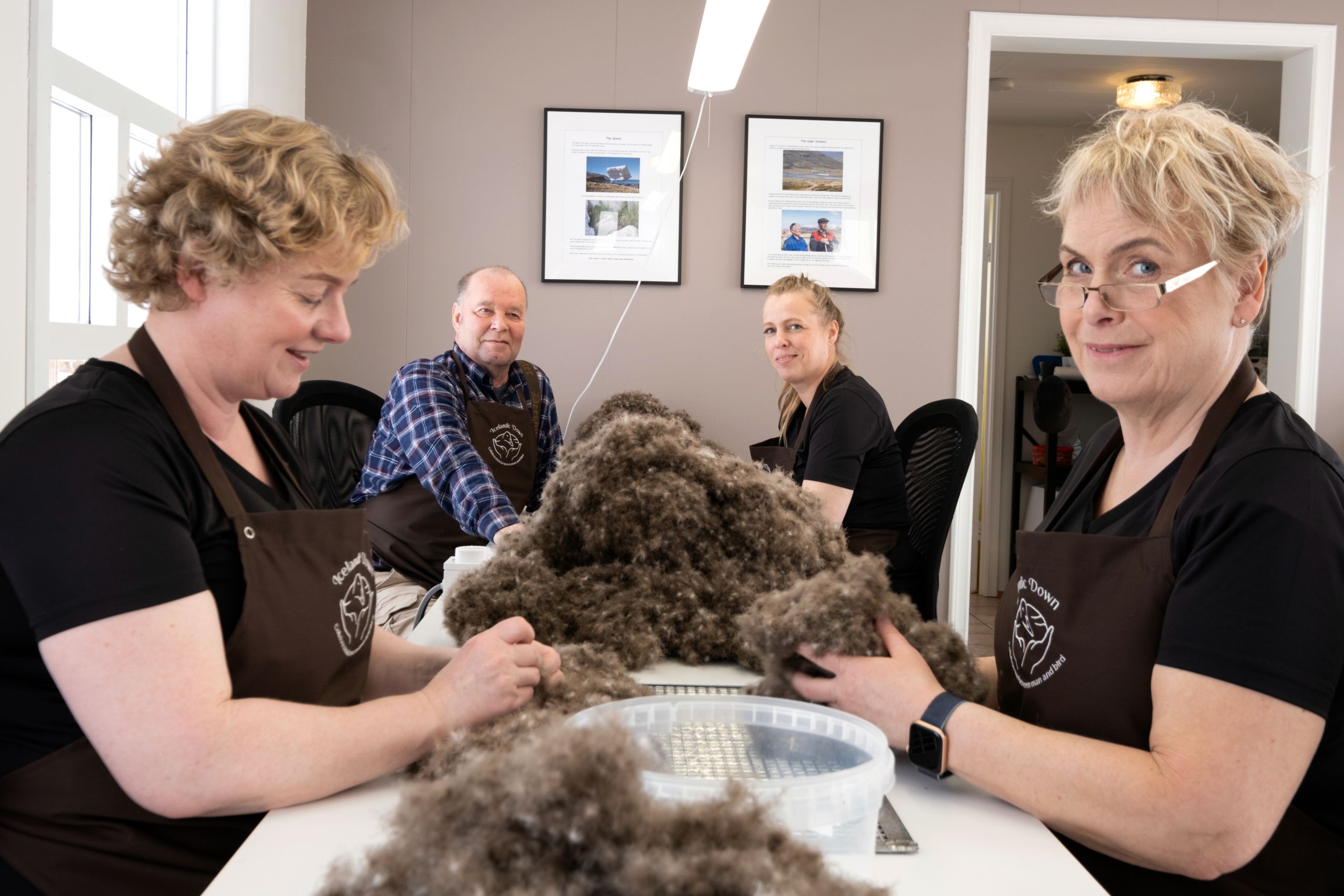 Icelandic Down's Guarantees
Global Shipping
Tracked, first class international shipping to your country of residence.
Government Certified
Our products are inspected by the Icelandic government and come with an authenticity and quality certificate.
Five-Year Warranty
Your order is fully-covered for five years for free repairs or replacement in the unlikely case of manufacturing issues.
Concierge Service
Every order is handled by Ragna, our founder, and custom-made to your needs.
Sustainable Production
Ethical eiderdown and traditional artisanry make our bedding the world's most sustainable.
Made in Iceland
Each step of the process is taken here in Iceland - we never outsource production or materials.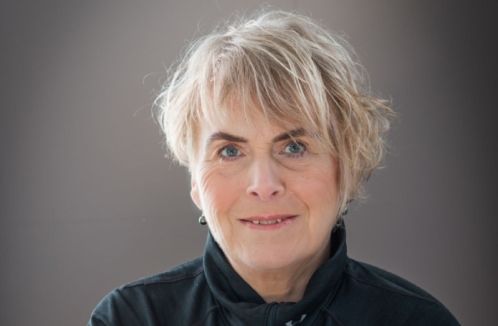 Have a Question?
Contact Ragna.

Discover our full range of luxurious Icelandic eiderdown bedding.